Salam buat pembaca...

Saya bertemu dengannya sekali, itupun sebab nak 'view venue', persediaan sebelum majlis pertunangannya berlangsung, selebihnya kami hanya berbalas mesej, awalnya pertanyaan harga, sms demi sms dan perbualan 'by phone'... and then confirm the date and venue. Pendek kata memang senang berurusan dengan tuan punya badan, we trust each other, pertukaran ke venue yang lebih luas juga di'inform' kepada saya melalui telefon.
Melalui telefon dan sms beliau agak serius dan ia membuat saya sendiri rasa 'suspend dan nervous'je untuk bertemu, bila tiba masa untuk bertemu, at first sight, melihat dia tersenyum jauh dalam hati saya sudah terdetik "owh...she's very nice person".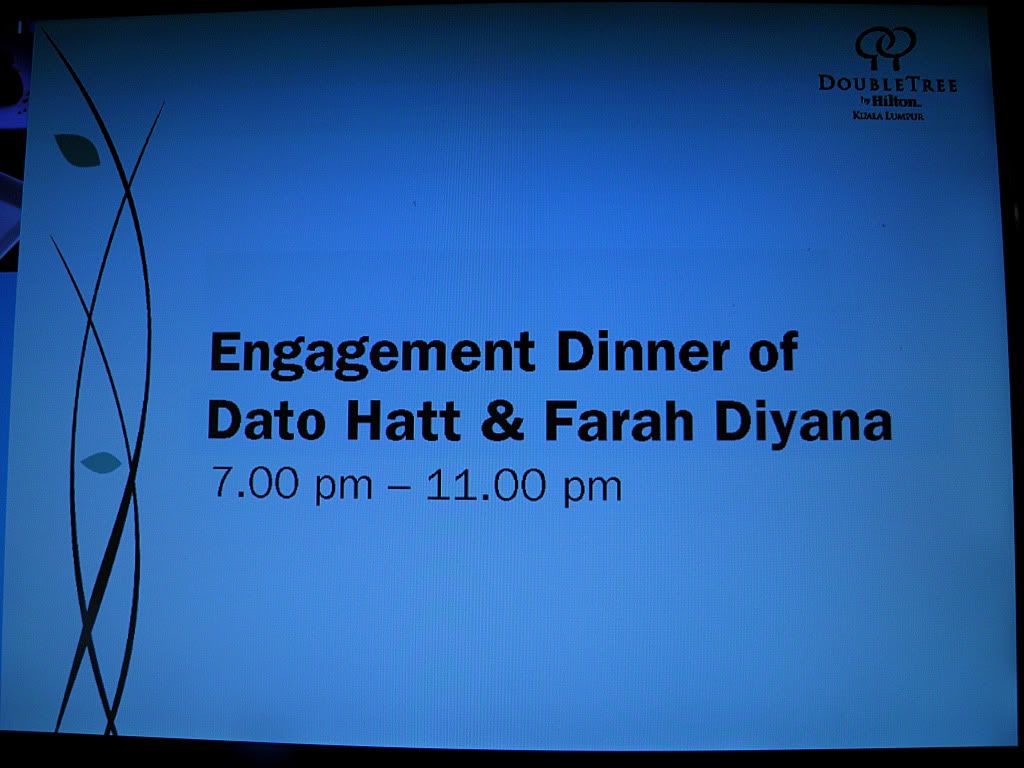 Majlis berlangsung di Hotel Doubletree by Hilton. Perbincangan dan pertemuan yang singkat saya tahu citarasanya dan kami inspirasikan pada majlis tersebut. Sebuah pelamin yang elegant masih menggunakan bunga 'getah eva' ala-ala Chanel gitu, tidak lagi di dalam frame tetapi bunga sebagai frame, simple white and silver. Tambah lagi menarik 'loose' fresh flower di kiri dan kanan pelamin menggunakan pheleonopsis, tulip dan hydranger.
Stage yang disediakan hotel digunakan semaksimum yang mungkin apabila di hadapan pelamin diletak hantaran serta meja dan tempat untuk berbincang di sudut kiri dan kanan. Dewan di serikan lagi dengan 'flower stand' pada 'walkway'.
Sebahagian hantaran daripada pihak lelaki dan perempuan
Di luar/foyer tetamu juga disambut dengan candy table yang tampak mewah dengan limpahan coklat yang juga disediakan oleh crew kami :)
*
To Farah and Dato' Hatt, semoga cepat ke jinjang pelamin

,

and

happy

to

the end of life

, do not forget

us

for the

next

event... ;)