SEPTEMBER 7 2012
- Assalamualaikum, this entry for today (its not a due date but its a due month already haha :)) me like to share with all my readers about this event, venue at Tun Rahah Hall Bukit Bintang. It was a 2nd time we did our task here, not too big hall, about 300 perpack
Today we gonna do a modern and simple floral touch for this solemnization event. Combination of peach and pink colour make the hall look so stunning and sweet. The father's bride warn us not to arrange the flower, he want it look natural in vases.
Peach Tulips as handbouquet
Fisrt step from the entrance we made a square arch with draped and crumple curtain in peach colour, look warmest and welcoming. It was my husbang touch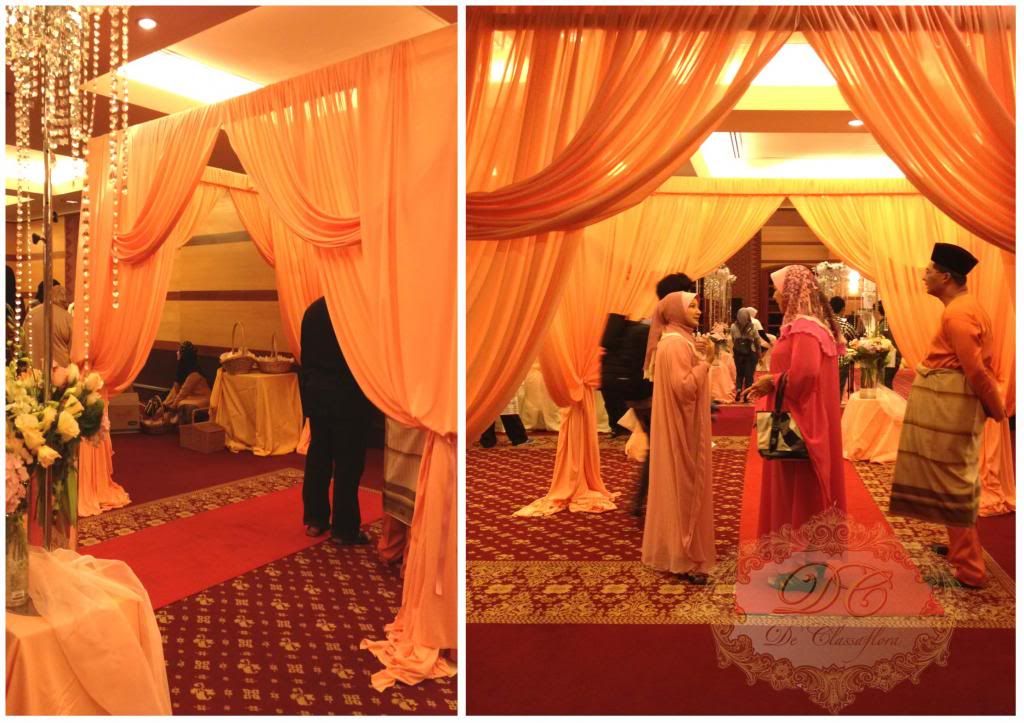 Then the walkway we've use hydrangea, calla lily, orchid, roses, gerbera, eustoma and bear grass in different size vases. Even look modern and simple but still look gorgeous and stunning when put the bling-bling stand on the pillar. The flower's scent and colour of fresh flowers make the hall so dramatic hehe
Then the stage, where the solemnization event will be held, we arranged the mirror box as hantaran platform in front of stage. The stage covered by white curtain then the dias was like a single square with fresh flower arranged, as their request. As I'm thinking, it was the first time we made the fresh flower arch, before... our client never request this kind of thing, lucky... For us we can do a new thing.
As usual our team covered the stage with white and hairy carpet, put the pillow and table for the bride, groom and juru akad, throw pillow everywhere, and fresh flowers in vases at right and left dias. One side, our team have finished make their centerpiece flowers. At the same time me as regular finished my own task - high table centerpiece with my sweet partner :)
Tomorrow morning we come again, because the event start around 10am, so we have enough time to make a finale touch and will setup for the dessert table. I will highlight this dessert table in another entry.
Here.... Finish our task, because tonight will going to somewhere else for pelamin installation. This is De Classaflora, how our team work to make the dreams come true....Luxe in a Budget.

Note: I'm anxious for the reception event at Sime Darby Convention Center this coming 21st December!!